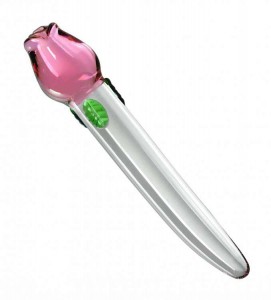 With all the dildos and vibrators out there, it is easy to fill your sex toy box with all sorts of shapes, sizes, styles and colors.  Dildo's come in a  plastics, metals, vinyl and rubbers; all with their own set of rules for cleaning and lubrication.  For instance, don't use silicone based products with silicone dildos or they will start to decompose. A Glass dildo may look high maintenance but they are the easiest and hardiest of the bunch.
A glass dildo is more than sex toy, it is work of art.   Combining form and function, these beauties can be displayed on your night table like Vishnu; DXR-AC933, The Thruster and The Awesome Blossom;DDJ-0292-08 as an erotic art display.  Glass dildo's come in many unique styles and are very colorful.  The Bondage Fetish Store has many to choose from!
Don't let their good looks fool you, though.  Each dildo or vibrator you purchase is money well spent.  With proper care,  you will never have to replace them.  They can take a few bumps along the way, but short of dropping them from a high elevation onto a hard surface are hard to break.
A glass dildo or glass vibrator will work with your favorite lubricants and toy cleaners,  No restrictions apply.  You can even use regular soap and water or pop them in the dishwasher (do not put a vibrator controller in the dishwasher).
Benefits of Glass Dildos.
Another benefit of glass is their tolerance to temperature.  You can pop them in the freezer to cool down on a hot, steamy night or put them in warm water to heat things up when you are cold.   Because they are waterproof they can join you in the bath or shower, too.
Economic, easy-going and erotic, start your glass collection, today!!!