Make your nipples perk with pleasure with the Fetish Fantasy Vibrating Nipple Clamps.  The pair of rubber coated, alligator clamps have adjustable screws to adjust the tension. So you can make them as tight as you like.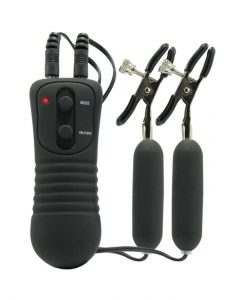 Then, you insert each adaptor into the base of the controller.  That's when the fun begins.  Simply push the power on and enjoy the 10 patterns of pulsation and vibrations.  By hitting the Mode button repeatedly you can cycle through the different functions.
You use the Vibrating Nipple Clamps on yourself or your partner.
A black satin mask is included for seductive Sensory Play.  Let the tingly vibrations tease and arouse your lover for some erotic bdsm fun.
These Vibrating Nipple Clamps are powered by 2 AA batteries.  Don't forget your batteries when planning your erotic escape.
On sale for $22.95, regularly $29.95.
http://www.bondagefetishstore.com/p/NPD-2187-00.html
The Fetish Fantasy Vibrating Nipple Clamps Are Part Of An Entire Line
Fetish Fantasy is one of several lines very popular produced by Pipedream Products.  Pipedreams is one of the top sellers of adult sex toys for over 40 years.  They got their start selling smoking accessories out of the back of a van, hence the name Pipedream. Fetish Fantasy is the #1 selling bondage line worldwide. In fact, the Fetish Fantasy Series was continuously featured throughout all seven seasons of Sons of Anarchy.
Nipple Play Is An Exciting Part of Foreplay
Nipple clamps pinch or gently squeeze, freeing your hands to concentrate on other areas of the body.  Some women orgasm from nipple play alone and adding vibration intensifies the experience.   The Bondage Fetish Store stocks a huge selection of nipple torture toys.  We broke down our nipple sex toys into several sub-categories including, nipple clamps and vibrating nipple clamps, and nipple suction. Some clamps are embellished with hearts, feathers, beads, weights, or tassels.  Others are magnetic,  and some have teeth that bite while others have chains to connect them.  Even the colors are varied.  The Fetish Fantasy Vibrating Nipple Clamps come in black, but we also sell clamps in either silver, gold, copper or pink, too.