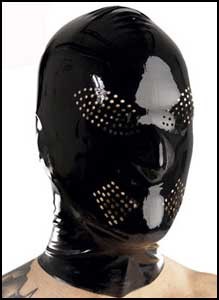 What it means to transform into a sex slave
Once you zip up the leather suit and slip on the mask say goodbye to your identity. You are no longer you. You are it. You become a gimp, a full-on sex slave.
Cover up the body
Becoming a BDSM slave is arguably the ultimate bondage experience. It often involves canvasing yourself from head-to-toe in black leather, rubber, or spandex to make the full transformation from person to object.
No longer a sexual partner
You become a sex toy. For your master to play with and command at will. Suits and outfits are designed with conveniently placed zippers, for easy access to the gimp's more playful features. By surrendering yourself to your master, you become open to the most pleasurable experiences imaginable.
At Bondage Fetish Store, we have all the gear, outfits, and toys you need to become a gimp. Our selection is so diverse that any form of master-gimp play is possible with us. You won't find such a wide assortment of naughty goods anywhere else.
Visit our website or call (617)-455-4454 to place an order, today!